We started this story in 2020 together with some wonderful teachers and students who understood that the Erasmus+ program means evolution and change. It was our turn to host and it was the last hosting of our project, Act For Environment in which our school, Arts High School "Ionel Perlea" teamed up with 1 Epal Trikalon, Greece, Ies Hispanidad, Spain Ekonomska I Turistika Skola Daruvar, Croatia și Agrupamento Escolas Anselmo de Andrade, Portugal to  implement activities which are emant to raise awareness about environmental issues. We aimed at making students work in multinational teams and debate upon different aspects related to energy and to how young generations can actually make an impact on the world.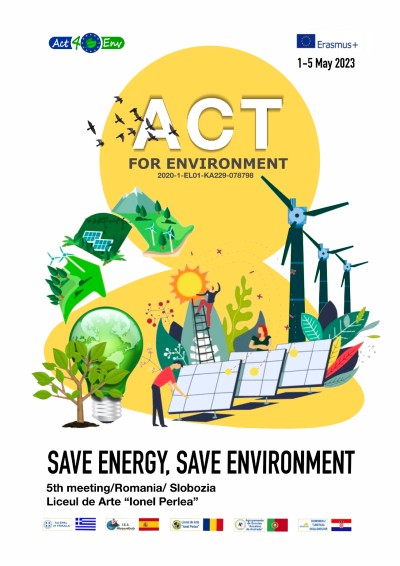 We wanted them to feel that they belong and that they can find solutions to problems, they can collaborate and learn from one another in a fun and interactive manner. And so the story ends with people being happy with what they have achieved and aware of how much they have evolved. Here are some of the thoughts that speak greater than any other thing.
Alex B : The Erasmus mobility experience in Romania was unique and extraordinary.  My technological skills felt a significant improvement and my English level felt a drastic improvement.  The workshops I took part in were very well organized and the atmosphere was pleasant. All the activities encouraged communication between the participants, a fact that was beneficial to all. This project gave me the opportunity to observe how easy it is to communicate in English, which I would not have believed before. In conclusion, I would also add the fact that all our actions affect the environment, and this mobility made me aware of them.
Alina T: Every Erasmus mobility has its charm. Even more so when you are the host country and you fear that you will not be hospitable enough. But this mobility had teams made up of very sociable, friendly, intelligent people and willing to try all kinds of new challenges. Together with them I also learned to take the risk and participate, to talk more, to transform an activity about a common topic into a much more special one. I have made connections, gained new knowledge, discovered and feel that I have added more to my personality thanks to this experience.
Cosmina M: Erasmus became one of the most beautiful memories. I was glad for being the host together with the rest of my colleagues I shared the same experience with. We formed close and unforgettable relations of friendship with the international mobilities. I feel like I have amplified my social skills and my knowledge upon everyday life and environment. I feel so honored still for ending the project in such a beautiful way with friendly, fun and social people. It's a 'soul gift' for such experiences.
Cosmina N : For me, the Erasmus experience is unique in many ways. The most important one is that through the project I was able to really discover myself. Thanks to this project I have discovered wonderful people, I have learned to amplify my social skills, but last but not least, I have learned to really respect everything around me. Through this week's approach I had a lot of interactive activities through which I discovered the true value of the environment.
Teodor B: Erasmus was and always will be an unforgettable and always cherished experience. The connections made with young people our age were completely amazing. The way we got along, the daily activities and many other topics discussed were very pleasant. All the games, places visited and experiences gave me the opportunity to optimize my knowledge and I feel grateful how the week ended with great success and everyone's satisfaction with this Erasmus week.
Adela P: The Eramsus experience is unique, regardless of activity, mobility or destination. The Erasmus experience is unique because people make it special. I am grateful for the team I worked with, for the friends I made, for the teachers who guided and helped us. Mobility in Romania was, for me, a wonderful experience, which I will definitely always cherish. All the activities were interactive and to my liking, and many students who came to our country for the Erasmus experience share this opinion. We all collaborated, worked, learned, everything to develop and love the country and the environment even more, because, ultimately, the goal of this project is for young people to feel good and to be aware of the life of others, either man or nature.
Sebastian P: The experience of this mobility was unique. I made new friendships and discovered new skills I didn't know I had. During my time as a host, I stepped out of my comfort zone in order to communicate and socialize as openly as possible with the students from abroad, who were very kind and friendly, and even after the project ended, I kept in touch. During the activities, we managed to collaborate, and we learned a lot of things about the environment, and we re-learned them on already known creoles. I am grateful that I was able to be part of this project, and I look forward to the next experience!
Robert B: Erasmus+, a beautiful, incomparable experience, an opportunity to get to know and learn.  That's how I can define this project.  I have nothing but words of praise for everything the coordinators and teachers involved managed to do, those who 'fought' so that everything turned out perfectly.  From the beginning to the end, the mobility week in Romania went as I would have expected.  I met new people, learned interesting things, and most importantly, made friends.  This is what Erasmus means: curiosity, collaboration, adaptation.  The activities were wonderful, interactive, even from the position of 'team leader'.  During the week I was able to develop intellectually, thanks to my colleagues who shared their perspectives with me, exposed their point of view and made me understand the beauty of the country they came from.
Antonia V: I am happy that I could contribute to this project. We could make activities regarding ecology problems in a pleasant atmosphere, specific to Erasmus experiences. Moreover, we could collaborate with foreign members and even created friendships for life, in an well-organised but relaxing manner. Communication did not represent an obstacle regarding our purposes. I would totally repeat this experience any time!
Delia M: The Erasmus experience I had this week is completely different from the previous ones, original and unique. The meeting with the students from Greece, Spain, Croatia and Portugal was really special, both for us and for them. As hosts, we felt a little more responsibility than the other mobilities, but we managed to organize ourselves and offer our new friends an unforgettable week, at the end of which parting was hard. I am glad that I could take part in such a beautiful activity, which united us through international teams, a memorable week for which I thank the coordinators, the professors, without whom it this project would not have been possible to achieve, but also to the wonderful team that I was part of, a sociable team that got involved so that everything turned out as expected. Thanks to all the wonderful people I'm surrounded by.
Andrei S: Act4Env has taught me three things : to not take anything for granted, to enjoy every moment that you can witness and to be open to new challenges. With socialising between the students being one of the main targets for the project team, I believe that we fully achieved this goal as a whole, and we proved that change is possible and it's in our hands if we truly want it and if we have little courage to try. I am honoured to have had to be part of the host team for the last mobility of this project and I hope it  showed that each and everyone of us is capable and is in charge of helping as much as one can to build a better future.
Mara N: As the host of the last mobility in the Act4Environment project, the Romanian team had made significant efforts in order to offer the guests from the partner countries an unforgettable experience. This gave us all the opportunity to highlight the progress we made up to this point. Through unique, fun and educative activities, we got the chance to socialize and exchange thoughts, descovering once again the advantages and the joy of cooperating in international teams. The farewell dinner must have been the peek of the mobility, when each and every single one of us were remineded how grateful we are for having taken part in this unique project, with such amazing and creative people. With passion and emotion, we got a glimpse of our different cultures in their purest and most artistic forms: music and dance. Therefore, this project meant for me not only taking responsabilities to contribute in the organisation of a successful project, but also an Erasmus experience in its truthful meaning.
Anastasia G: For me, the Erasmus+ project meant a complex route, whose "challenges " led me, step by step, to the final goal: my personal development. The Romanian Mobility taught me the meaning of the term "to offer" because, as the host country, our team made significant efforts to provide an unforgettable experience to our partners. I also lived memorable moments with the teams of the collaborating countries, because wonderful people attract wonderful moments. With them, I rediscovered my city and country, and the well-known landscapes that I used to see every day seemed to take on a new form when we were with the international teams.
Georgiana U: The last mobility has been an unforgettable journey and it was all thanks to the teachers who have succeeded in making the Act4Environment project a fun and enjoyable experience and to the students from every country who have been given a chance to take part in this mobility. The first day, was in my opinion, the day we formed the foundations of lifelong friendships even though everyone was nervous due to the new experience we were faced with. All of the students were very sociable and very happy to be included in all of the activities. Not only has this project taught me to be more confident in my skills, how to work better in groups and how to take charge in awkward situations but has also taught me about the beauty of my country and other countries. I am looking forward to taking part of another project like this.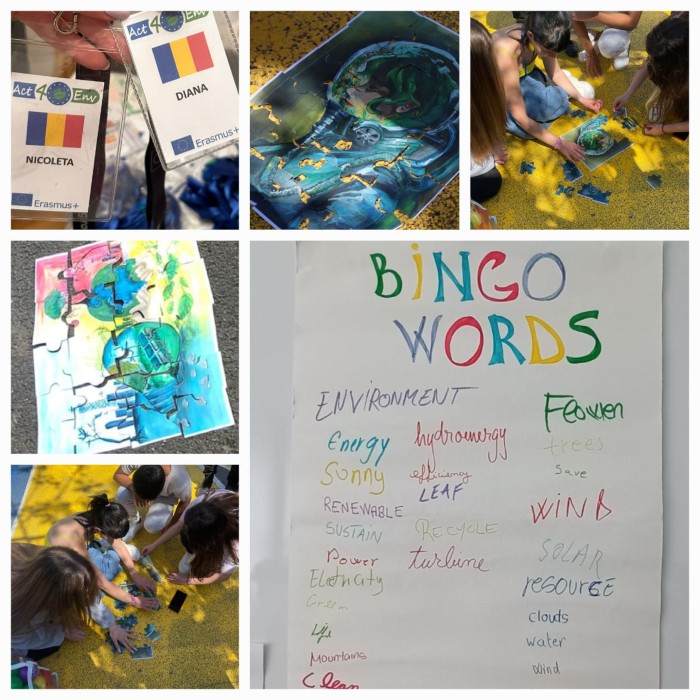 So… is this the end? We are more than sure it is not. Lots of the students involved in Erasmus+ programs want to continue their journey at the university and they want to learn how to implement them. This story has the most beautiful happy ending: they participated, they learnt, they shared, they collaborated, they supported one another and they evolved. Because Erasmus+ is about enriching our lives and opening our minds.